Some artists come out and stay consistent for their whole careers. They make the same music that they know will sell them units and go platinum. On the other hand, you have artists who grow with their music, and when they are done, you can see their self-growth and musical growth. Something, sort of like a timeline, you can go back and see who this person used to be and who they've become. Tyler, the Creator is the epitome of what the growth of an artist looks like. Tyler was an artist that expressed himself powerfully when he first came out. His first couple of albums had this theme of expression and telling a story. From really rough and vulgar lyrics, he was just like any other young kid at the time. A kid who was testing boundaries and having fun doing it.
His ability to express himself was a double edge sword. His self-expression got him massive success with the sketch comedy show Loiter Squad and cartoon, The Jellies on Adult Swim. He also created the clothing brands Golf Wang and Golf Le Fleur. With all the success, then came the flip side of that same coin. He got criticized for his lyrics and banned from performing in Great Britain for a couple of years. The thing that made all of this come together like a bow on a present was his growth. His first three albums, Bastard, Goblin, Wolf, were albums full of this teenage self-expression of saying whatever he wanted and making good music out of it.
of music, he expressed himself the same way from tweeting and saying whatever he wanted and being unfiltered, almost like most teenagers. It wasn't until his fourth album, Cherry Bomb where his audience saw a switch. Musically, Cherry Bomb sounded completely different from his previous albums. It was a little bit of an experiment. That was the moment where everyone could see that Tyler had started to shed his somewhat old ways. Afterward, his albums, like Flower Boy and Igor were albums where it seems he did a whole 180. Instead of being unfiltered, say any and everything type of kid, he turned emotional. In his song 'Garden Shed', he talks about his sexuality and that being a reason he said a lot of controversial things in the past. Flower Boy and Igor were albums where we see him change and grow up in a way. His albums ultimately measured his growth through the years musically and his personal and emotional development altogether.
With his growth, Tyler became expressive in healthier ways. He became more experimental with his sound when it came to music. He even said when Igor came out that it wasn't a rap album. Ironically, it won the Best Rap Album at the Grammys. The Igor sound was unique and different, taking after many different sounds like the 60s and 70s British pop bands. Igor was something to keep the mainstream audience that got attached from Flower Boy with him. With his two mainstream successful albums in Flower Boy and Igor, many people didn't see if he could do it a third time, but to no surprise, he did it again.
Call Me If You Get Lost is Tyler's sixth album. This album isn't an Igor pt2; it's a rap album where Tyler reminds everyone that he can still rap. This album was help produced by DJ Drama, who came onto the scene with the infamous Gangsta Grillz mixtapes. Tyler had a tweet in 2010 where he stated that he wanted to do a Gangsta Grillz mixtape with DJ Drama, so he got his wish years later.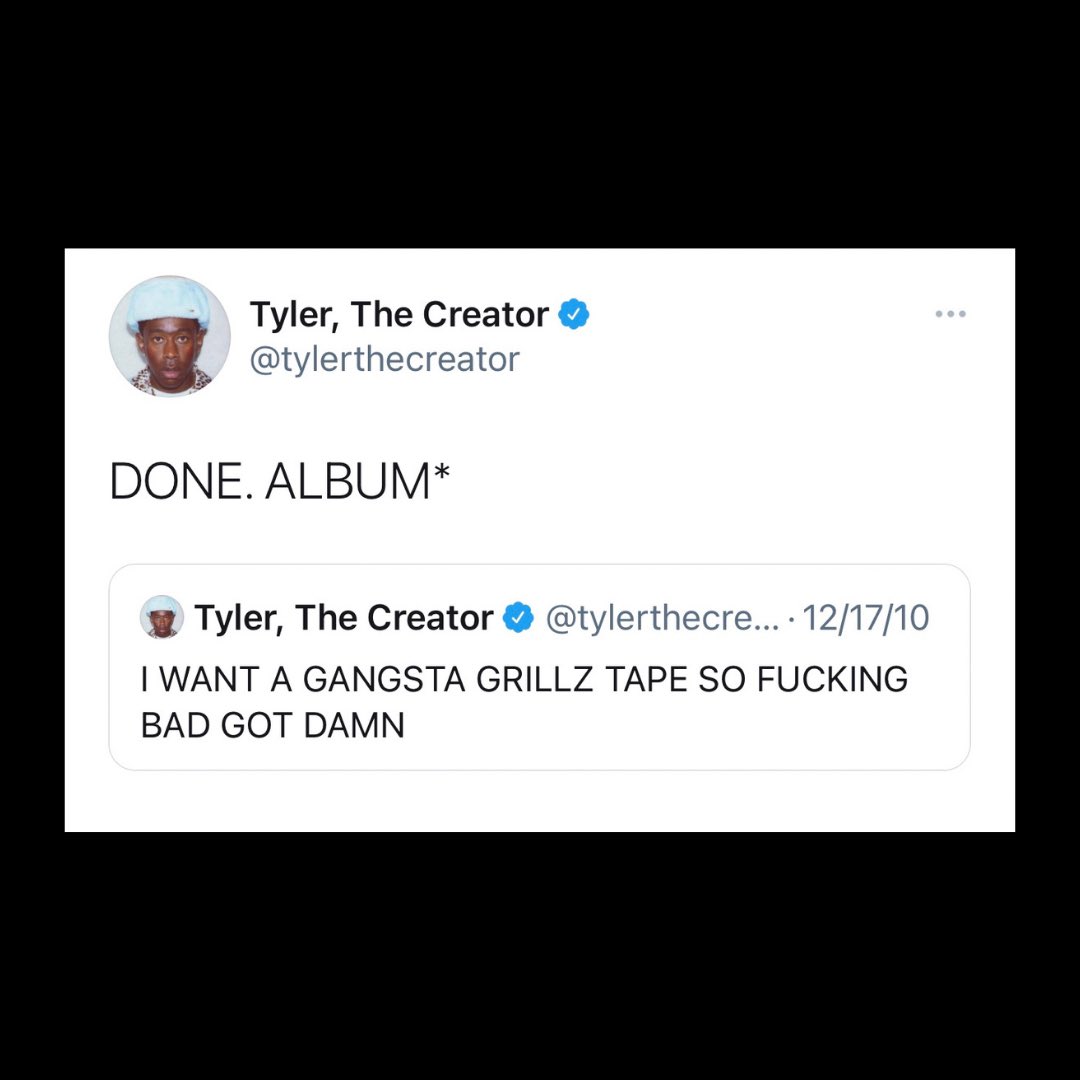 The record was influenced and recorded in the style of a Gangsta Grillz mixtape.DJ Drama helped produce the album along with Tyler, Jay Versace, and many others. In this album, Tyler is doing the most impressive subtle flexing I've ever seen. The album isn't just him telling us how much money he has from luxurious cars and traveling worldwide. This album revolves around Tyler becoming more self-aware of himself and dealing with his attraction and love for a girl he can't have. It makes us wonder would this be a Tyler album without just a hint of romance? At the beginning of the album, Tyler introduces us with that impressive subtle flexing, as I said before. In the opening track Sir Baudelaire, he emphasizes that. "Used to be reckless you see what them commas do" "Bunnyhopper, the new car doors, they lift open." In this album, he becomes more self-aware about himself and his past. On songs like Massa and Manifesto, he addresses a lot. On Manifesto, he comes to terms with himself about his past and about cancel culture when he was younger. "I came a long way from my past, man, it's obvious." "Internet bringin' old lyrics like I hide that Sh*t."
In the second half of this album, he tackles the romantic side of things. In the song WILSHIRE, he goes more in-depth into his feelings about the girl and the situation it puts him in. "I have never been jealous of another man. Especially when I have everything I want at hand except you". He recognizes that he has a lot and can go anywhere and have the most luxurious things, but the one thing he wants he can't have, and it bothers him. That's why I think he talks about a lot of what he has during the album because he's trying to keep buying things to make up for the fact Tyler can't get the one thing he wants. There were a lot of surprise features on this album. Ty Dolla $ign, Lil Uzi Vert, 42 Dugg, YoungBoy Never Broke Again, Brent Fayiaz, Lil Wayne, etc.
This album was nothing short of what we expected from Tyler. Everyone was holding their breath to see what direction he was going in. And to our surprise, he delivered a great album. After only being out for a couple of weeks, Call Me If You Get Lost has made it to the top of the charts to take the #1 spot. Tyler is well on his way to leaving a mark on this generation in music, fashion, and as an overall artist. You don't get a lot of artists that are as transparent and open as Tyler. His growth is something to admire. This album seems to cement that this is a new era for him, and we all can't wait to see what unfolds in this era.