I'm just going to cut right down to the chase. If yesterday's "Black Panther" trailer didn't give you an adrenaline rush and made you excited for the film, then I advise you to check your pulse.
I'll admit, when this film was first announced , I wasn't too excited about the film mostly because I wasn't sure if the Black Panther character was a strong enough character to draw Box Office cash but then again I thought the same about Guardians of the Galaxy , so I digress. It also doesn't hurt that the film has a star studded cast featuring the likes of Chadwick Boseman (Black Panther), Michael B. Jordan (Erik Killmonger), Lupita Nyong'o (Nakia), Danai Gurira ( Okoye), and recently featured iconic actors, Forest Whitaker (Zuri) and Angela Bassett (Ramonda). I hope I don't have to point out how historic this cast is for Marvel yet alone any other Superhero film franchise.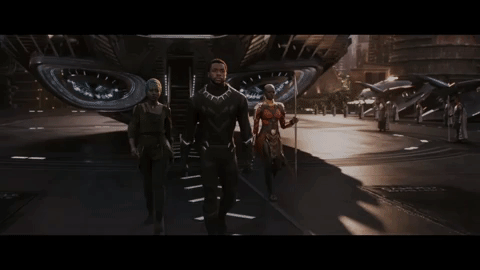 The cinematography in this trailer is the best scene in a Marvel film to date and I am glad that the film has received a lofty budget to allow director, Ryan Coogler (best known for "Fruitvale Station" and "Creed") , to properly tell the story of the" King of Wakanda".
Social Media reception to the trailer has been overwhelmingly positive.
I mean everything else aside, that Black Panther trailer is the most original, exciting looking sci-fi trailer I have seen IN LITERAL YEARS.

— Ghostly Bree (@mostlybree) October 17, 2017
I am jazzed as FRICK after watching the Black Panther trailer!!! Holy SHMOKES, the visuals, the action, the actors… gahhh I'm ready….

— Tom Sanderson Sister (@ThomasSanders) October 16, 2017
Me to Marvel after seeing the full Black Panther trailer: pic.twitter.com/XdTkm9IB87

— Travon Free (@Travon) October 16, 2017
The Black Panther Film may be the appetizer for next Summer's main course being the Avengers: Infinity War film which will be the BIGGEST superhero film to date with every MCU character all on one screen but the Black Planter is sure to satisfy your taste buds until then.
Check out the Trailer Below :