If you didn't know already, Pharrell is a huge fan of the legendary hip-hop group A Tribe Called Quest and has constantly talked about how their music has inspired his work.
Pharrell first met the group in the 90s' and worked with them to produce their fourth studio album Beats, Rhymes,and Life, but who would have ever thought that they would be collaborating on clothing?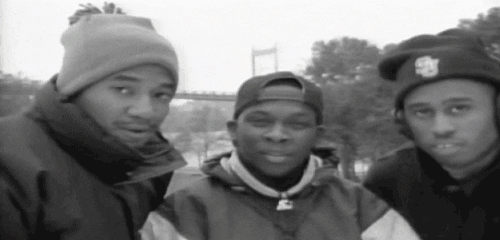 Before the collaboration, Complex spoke to the members of ATCQ and asked how did the collab happen?
Consequence stated: "We have a longstanding relationship with Pharrell. He's publicly stated that he's always been a student of the Tribe catalog and how LLow-EndTheory changed his life. We worked with him on Beats, Rhymes , ad Life. There's always been this revolving door with Pharrell and Tribe. Even as of late, when the Grammy nominations came out, he was… Outside of Q-Tip's video clip where he's stating his displeasure with what happened, Pharrell took to Twitter to state how important Tribe was to him and to the culture as far as longevity in hip-hop. There's always been a respect there."
The collection will offer hoodies, t-shirts, and other surprises that will be revealed closer to the release date on March 13th.
The hoodie will feature BBC's classic curve logo and stick figures from the album cover on ATCQ's sophomore album The LLow-EndTheory.
The tee features "ATCQ" and BBC's logo head on the chest, as well as a spaceship graphics with the words "Let's Make Something Happen"—a line from ATCQ's "The Space Program" from their latest project We Got It From Here… Thank You 4 Your Service.
All pieces from the collaboration will be found exclusively at BBC's SoHo, New York flagship and on ATCQ Thread Shop website.