These days, there's an app for everything. From organizing the flow of your Instagram pictures, to looking perfect, to looping videos, and to filters upon filters. It has become easier and easier throughout the years to improve your Instagram page, almost too easy. Apps are now editing pictures for you. At this point, there's no excuse in not having high quality photos, especially when you don't have to spend a penny. Here are 10 essential apps to improve Instagram photos.
1.Feedplanner by Jake Lyle is a great app for those looking to have an organized instagram feed. The app lets you see how pictures will look on your page once posted, without actually having posted it. For example, if you are wanting to start a theme on your page, Feedplanner lets you see if a certain picture goes along with your theme. With Feedplanner, your Instagram theme can never go wrong. The picture doesn't fit? Don't post it.
2. Looking to take your editing to the next level? Facetune 2 by Lightricks Ltd.,  is the app you've been looking for. This app allows you to edit out any imperfections, and just improve the overall quality of the photo. concealing, mattifying, smoothing, whitening teeth, or improving details on certain areas has never been so easy. With this app, you can take your ordinary, iPhone camera photos, and turn them into professional-looking pictures. With this app, you will want to recover all the pictures you deleted because of yellow teeth, or a pimple.
3. Boomerang by Instagram is another must-have. The app is probably very-well known due to the fact it's another app made by Instagram themselves. Boomerang is an app that allows you to take videos that loop. Adding Boomerangs to your feed is definitely good way to add some spice your content It's a fun way to contrast the rest of your still pictures. It is also a great way to show more of your personality to your audience.
4. Best Upload Time by Yunxian Song, is very useful when it comes to your follower's engagement. It sucks when your latest post has been up for a while, and it's not getting much attention. It almost makes you want to take it down. Best Upload Time allows you to see when most of your followers are online, making it convenient for them to see your latest post. This app helps you get the most engagement on your photos from your followers.
5. Whether it be the middle of winter or summer, everyone wants to be a little bronzed once in awhile. Tan by Modiface allows you to achieve the bronzed look without having to go get expensive spray tans. The app gives you options on how dark or light you would to appear. For the best results, it is suggested you play around with the settings a bit. Be careful when using this app, it is very easy to go a little overboard with the tan. The point is to make it look very authentic.
6. Followers + by Tapple, is an app in which you can track your Instagram analytics thoroughly. It allows you to see new followers and lost followers. It also shows a line graph of your recent engagement. It's great to see what kind of content your audience likes. Seeing what your followers have liked the most helps your content improve. Followers + includes features to track your average likes and comments per post, see what countries your audience is from, gender, follow/following ratio. Followers + is definitely an app you shouldn't be "instagramming" without.
7. VSCO by Visual Supply Company, is an app most people use to post pictures that don't make it on their main Instagram page. To make the most out of the app, you shouldn't just use it for posting leftover photos. VSCO offers great editing tools. It lets you experiment with the brightness, contrast, exposure, etc. Not only can you edit your photos to perfection, you can top it off with cool filters that are free within the app. Of course, if the filters given aren't enough you can buy more filters. It can also act as your photography portfolio. It's very well for storing pictures for later.
8. Filmborn by Mastin Labs Inc., is a beautifully designed app. The simple design within the app allows you to edit your videos and pictures without the hassle of not knowing how to use it. The app is so easy to use that if you're stuck, it provides you tips, examples, and just more information. The app is practically fool-proof. When in doubt, just go to the manual in the settings section. Filmborn is for more in depth photo and video editing, than just slight changes. This app will transform your pictures or videos from mediocre, to phenomenal.
9. Microsoft Pix by Microsoft Corporation, is an app for those who don't want to edit their own pictures. The app is a camera in itself that will automatically alter your pictures into getting the best out of every detail. Of course, this app may not be for those that like to micro-manage every single aspect of the photos themselves. It is best for those looking for a fast and easy way to edit photos. It is also used to capture multiple photos, or bursts. The app automatically saves the "best" pictures. It can also serve as a Boomerang 2.0, when the camera senses motion, it will automatically turn it into a loop video.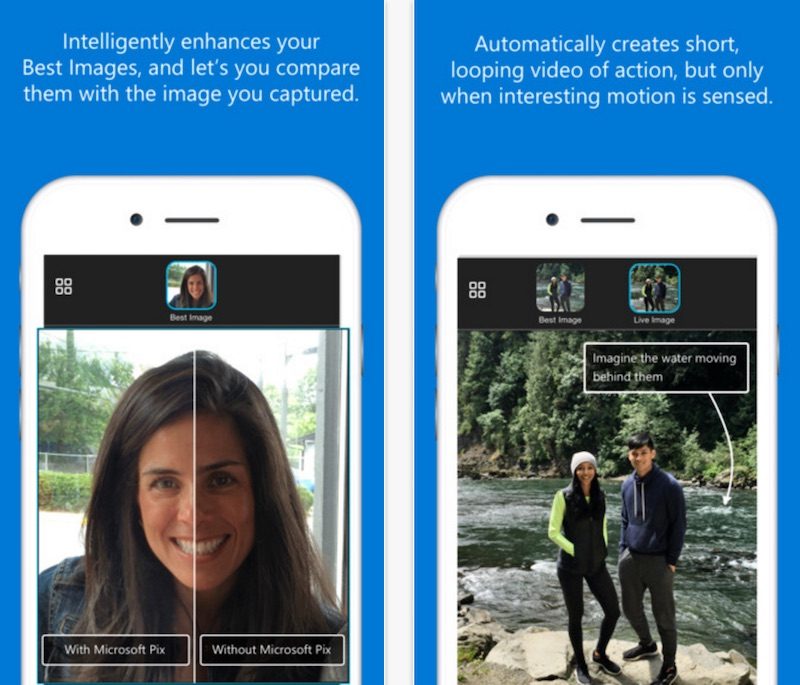 10. Video Filters by Jin Jeon is a very simple, easy to use app for when you want to edit those Boomerangs you took earlier, or to simply edit regular videos. It is not as complex as other apps, but that's what makes it great. It's comforting to be able to know there's more options than just the regular filters Instagram provides, sometimes those aren't enough.