These past few years have been quite tumultuous for America. The madness seemed everlasting as every time one would watch, read, or hear the news, one would learn about COVID-19, an insurrection, a racially charged hate crime or incident, and the list goes on and on; but interestingly enough, former president Donald Trump was also often the topic of discussion in the media. Apparently, he still is the center of attention as last Saturday, he voiced his anticipation about being arrested this past Tuesday on his social media platform "Truth Social" for allegedly paying "hush money" to adult film actress Stormy Daniels about their supposed affair. He also urged his followers to protest. Upon hearing this, New York and its NYPD braced themselves for the worst as they quivered at the possibility of another January 6th-like incident occurring again; they began surveilling online threats, positioning barricades, and monitoring the city, as usual, to make sure nothing "inappropriate" was occurring, according to ABC7 New York Eyewitness News.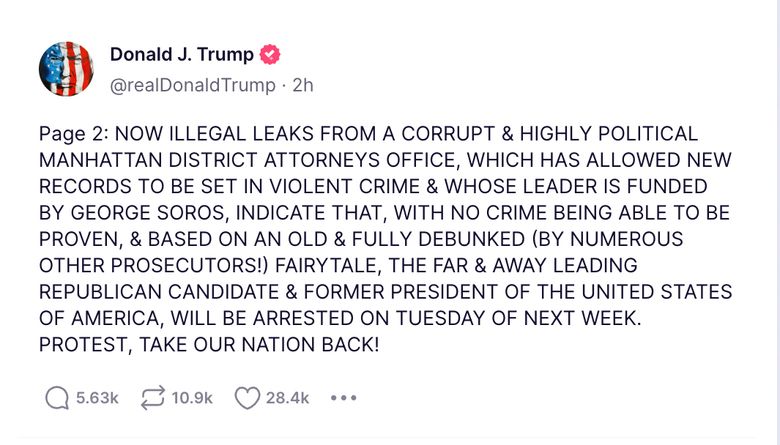 The hush money case is being investigated by the Manhattan Grand Jury. Sources say, however, that his indictment won't affect his 2024 Presidential run. In fact, any indictment of the former president will not be occurring until next week, and Manhattan district attorney Alvin L. Bragg has been reportedly questioning witnesses regarding the case, according to The New York Times. This unfortunately is not the only criminal investigation of the former president. He is also facing three additional criminal charges. The second investigation is being conducted by The Fulton County District Attorney's Office of Georgia, regarding Trump's alleged effort to overturn the 2020 Election votes after he was heard urging Georgia Secretary of State, Brad Raffensperger to find him "11780 votes" on a leaked phone call between them, according to CBS News.
The third and fourth investigations, are being conducted by The Department of Justice concerning Trump's possible role in the infamous January 6 insurrection as well as his "alleged mishandling of classified documents", according to Forbes. The insurrection, not only caused harm to the protestors and police, but it caused emotional harm to members of congress, so much so that according to, CBS News "Members of Congress and U.S Capitol Police officers sued Trump after the riot" as a consequence of his alleged instigation of the violent mob attack on the U.S Capitol; which occurred shortly after his White House Ellipse speech earlier that evening. We all remember watching him urge his supporters to march up to the U.S. Capitol in this speech. As for the fourth investigation, according to NBC News, "Top Secret Documents" were found in his Palm Beach home of Mar-a-Lago in Florida. Apparently, taking important documents like this home is not okay. This can be classified as "mishandling" them, which is severely punishable.
No matter what feelings one may harbor about former president Donald Trump, there is one thing that never fails to be ever more clear: no one is above the law. These four charges against him prove that even the rich and powerful can't escape the law.