After 3 consecutive years, HennyPalooza makes its rounds back to Atlanta for HennyPalooza ATL 2017. For those who aren't familiar with this event, HennyPalooza is an event where everyone gravitates around good music and lots, and lots of Hennessy. This event went from a "party" in Kameron McCullough, HennyPalooza's founder's apartment, to one of the biggest and most talked about social events on any social media platform.
HennyPalooza ATL 2017 was held at the new Masquerade venue in Underground Atlanta. The event started at 4:00 pm and went on until 9:00pm. Since this event heavily involves alcohol, HennyPalooza is only open to those who meet the legal drinking age of 21. In order to attend, you must have had a ticket bought prior to HennyPalooza. The ticket was $60 but it included the alcohol once entering the venue. Aside from liquor, HennyPalooza provided live entertainment. There were three different rooms, and each room there were different performers and Djs on stage.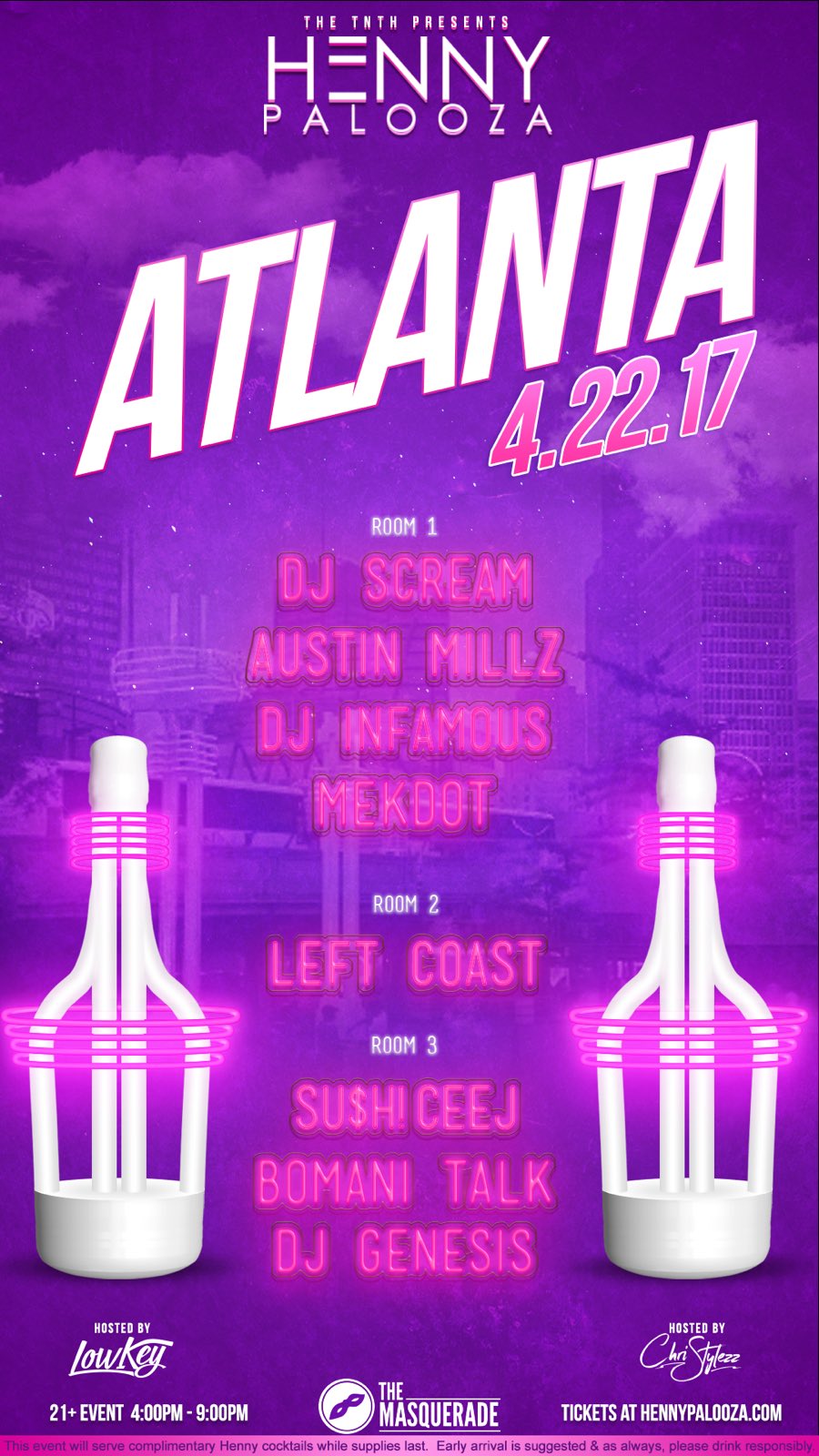 From throwbacks to new hot singles, HennyPalooza kept everyone lit up and entertained. The Hennessey was accessible until supplies lasted. HennyPalooza merchandise was also available for purchase. The merchandise included shirts and hoodies that contained the HennyPalooza ATL logo. Prices for HennyPalooza merchandise ran from $23- $39 depending on the item.
From the looks of it, HennyPalooza ATL was yet another successful event.
#HennyPalooza Atlanta is officially sold out. And doors are just about to open. Let's go. pic.twitter.com/SCg3IZydXH

— Kazeem Famuyide (@RealLifeKaz) April 22, 2017
Atlanta, #HennyPalooza … indoor henny, outdoor henny. pic.twitter.com/qaLLOUMN0l

— Bruno. (@brunzilla) April 22, 2017
Hennypalooza was a movie! Definitely made my birthday a lituation. Atlanta at its best 😊

— UNC NATTY CHAMPS '17 (@Kay_En_Bee) April 23, 2017
Forever I Love Atlanta #HennyPalooza #TrappinAnonymous @ Atlanta, Georgia https://t.co/RnSqTUza5a

— LEGEND (@ChriStylezz) April 23, 2017